MIST Quality Assurance
Quality Policy of MIST

It is the policy of MIST to provide quality training for future ships and safer oceans in compliance with STCW'95 and other national / international regulations and endeavor to keep ahead of changes in time and technology.

With this in view, MIST aims to provide with quality maritime training to the seafarers complying with the regulations and consistent with the changing time and technology. MIST will aspire to become a landmark in its field of activities and set an example of quality education in this region.
MIST is country's first ISO 9001:2000 certified maritime training institute.
ISO 9001:2000 certificate

Year 2002-2005

ISO 9001:2000 certificate

Year 2005-2008

ISO 9001:2000 certificate

Year 2008-2011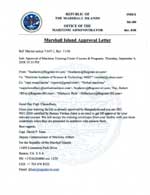 MIST is pioneer Government approved maritime training institute in Bangladesh, which is also approved by Republic of Marshal Island and other Maritime Safety Administrations.